Second International Urology Conference for Nurses. Amsterdam. September 29th – October 1st 2019.
The second International Urology Conference for nurses was held in Noordwijk, near Amsterdam. This fantastic 2 day conference enabled Urology nurses to network, share experiences, find solutions to complex cases and expand their knowledge in the field of Urology & Urological conditions. Sincere thanks to Hollister International and the committee of the UCN for organising and co-ordinating the impressive event. It was my first time to attend and present in the International arena, an experience that I have enjoyed and benefitted from both professionally and personally.
The two-day event kicked off on Sunday night (29th Sept 2019) with a presentation over dinner by Mr. Jerome Marley, Lecturer University of Ulster, he posed the question why nurses are reluctant to do research when we are excellent at research-based practice and applying research to practice. Nurses now need to validate their practice via research. We need to ask the question 'why?'  His presentation inspired us all to start the conversation about research and why as nurses we sometimes shy away from research.  The tide is changing and with support and guidance, nursing research will emerge in abundance.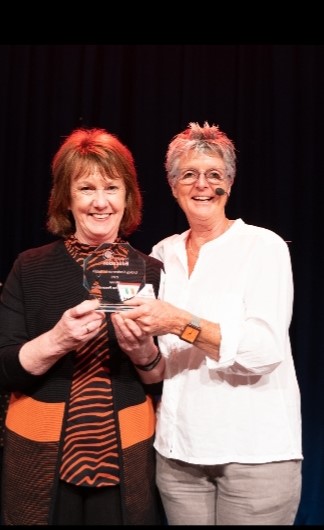 Excellent presentations and poster viewing gave a glimpse of the fantastic work being forged by Urology Nurses throughout Europe and the USA.  Congratulations to Margaret Tiernan (pictured to the right), Continence Advisor Roscommon on winning Best Presentation for Overcoming incontinence after Prostate Cancer-An integrated approach to continence care for men in Roscommon.
A wide spectrum of workshops over the two days enlightened knowledge and helped solve complex scenarios in the workplace. The workshops were:
Transgender: How do we define gender? Is it how we look? How we feel inside? Chromosomes? Hormones? Society? Instead of Judging my Appearance- Inquire Within! Communication is key to hear your patient. Hear your patient's story. Ask the patient how they would like to be addressed? Educate colleagues. We live in a work which has vested interests and still seeks to police difference(Caster Semenya)
The Neurogenic Bladder: The complex nature of managing patients with neurogenic conditions were discussed and the impact on both the bladder & bowel. The urological opinion is vital and the interdisciplinary team approach is essential to integrating neurology, urology, colorectal, physiotherapy, occupational therapy, social worker and community teams.  A key component to be considered is the transition from Paediatric to adult service, which can be a very difficult time for the patient.
From Hospital to Community: 12-21% of hospital patients and 7% of the community have indwelling catheters. It is essential to have effective communication between the hospital and the community. Early intervention in the community can prevent hospital admissions. Product supply and self-care are essential. Intermittent catheterisation should be considered where possible instead of indwelling catheter-patient choice.
CAUTI prevention: Various tools available to assist nurses to establish/rationalise the need for indwelling catheter – local guidelines will assist. The best way to prevent CAUTI is No Catheter. If a catheter is required, remove it as soon as possible. HOUDINI can assist nurse-led trial of voiding. Remember: Closed system (if the system is broken new connection devices required), securement device, daily hygiene, hand hygiene before and after catheter care.
Tricks & Tips on catheterisation:
Intermittent catheterisation: A bladder diary is essential when starting to assess bladder emptying and guide individual patient care plans. Social support to improve quality of life. On-going support and review is required for the duration of catheterisation.  Concordance is paramount.
Indwelling Catheters: Catheter fixation is essential to prevent urethral trauma. Catheter valves should be considered if the patient is deemed suitable.  2-3 hourly drainage during the day.  A night drainage system can be attached to a valve if required.  Change the valve weekly.  If there is a blockage – consider stones, increase oral fluids & intermittent drainage with the catheter valve.  Spasm – consider constipation, botox and anticholinergics.
PICO-from question to research. Ask the question, why?  Research is knowledge. Knowledge is having the right answer and intelligence is asking the right question. PICO is a research method that can assist nurses to do research. P=Patient/problem I=Intervention/Exposure C=comparison(not always required) O=outcome
Patient education: Organised, structured or invisible. Consider how your patient learns, what tools can assist? DVD, Models, posters, leaflets, discussion, play. All patients are different – individualised education care plans should be devised for patients. Think outside the box.
Management of the obstructed upper tract of the urinary system: Care of nephrostomy tube and troubleshooting issues that can occur. To flush or not to flush is the question? Some areas recommend regular flushing, the key point is that you have written instruction to flush the tube and an aseptic technique is used.
Antimicrobial resistance and Microbiome: Urinary Microbiome may contribute to inhibiting pathogenic bacteria, priming the urinary immune system and creating barriers that prevent bacteria from entering the urinary system. Overuse of antibiotics and antimicrobial resistance is the biggest challenge to humankind. A chilling quote for us all to ponder…..
'..the thoughtless person playing with penicillin treatment is morally responsible for the death of the man who finally succumbs to infection with the penicillin-resistant. I hope this evil can be averted' (Alexander Fleming).
I would recommend all Urology Nurses to attend International conferences; it broadens our knowledge base and enlightens us on how well we are doing in Ireland. Sincere thanks to the committee of the UCN and to Hollister International for inviting me to attend this amazing event, an excellent learning forum where practice, ideas, complex cases, and challenges were shared.  A special thanks to our Irish reps: Rosemary Rowe and Mairead Maguire who looked after the Irish Nurses so well and ensured we all got home safe and sound.