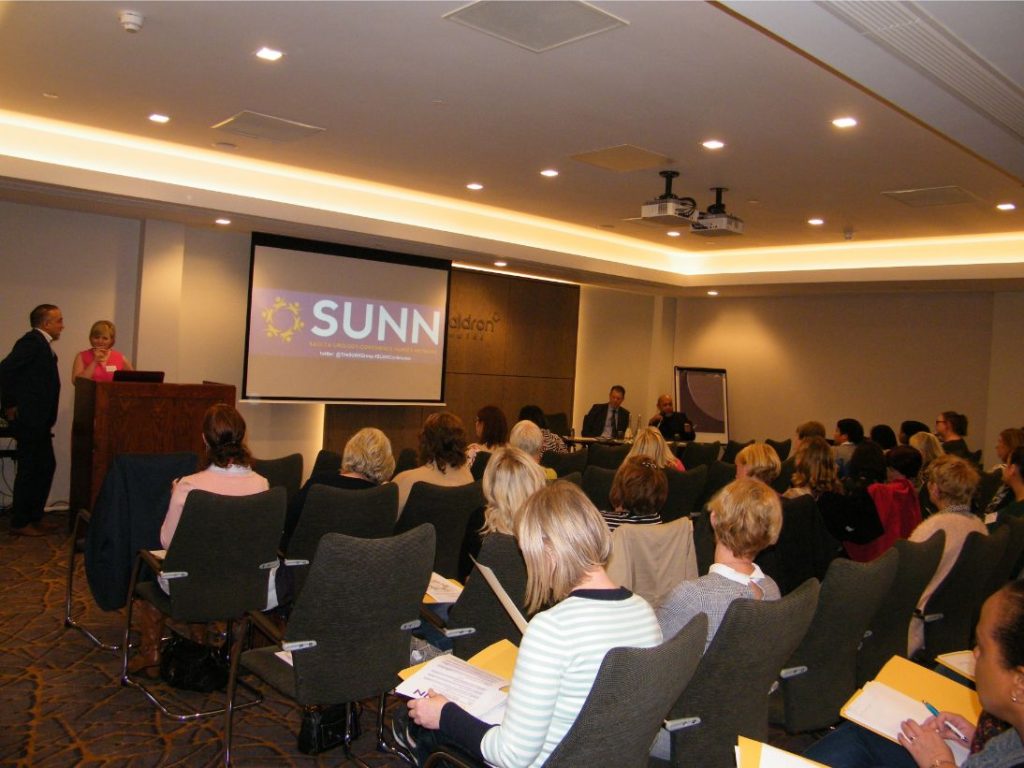 Report of the 3rd annual SUNN Educational Conference, October 4th 2019
Report of the 3rd annual SUNN Educational Conference: 'Connecting the Flow', at the Maldron Hotel, Sandy Road, Galway.  October 4th 2019.
The third SUNN Educational Conference: Connecting the Flow, was held in the Maldron Hotel, Sandy Road, Galway, on the 4th of October 2019.  The aim of this educational event was to enable nurses from urology services, continence advisors, public health nurses, practice nurses, physiotherapists, microbiologists, and consultant urologists to network, share experiences and enhance practice.
Mr Syed Jaffry, SUNN president, and Therese Kelly, SUNN Secretary, welcomed all to the conference and wished all a successful, knowledge enriched and network enhancing day.
The SAOLTA group Director of Nursing, Ms. Jean Kelly, opened the conference with an inspirational speech encouraging nurses to embrace Sláintecare as it leads along a path to changes within practice which will see increased numbers of nurses forging careers in advanced practice in both the hospital & community settings. Exciting career opportunities lay ahead for those who embrace it. During the speech Ms Kelly outlined how the recently launched "Urology: A Model of Care for Ireland", (Roscommon University Hospital 6/09/19) would have a lasting impact on the SAOLTA/Community Healthcare West (CHO2) by announcing that a further 3 new Urology Advanced Nurse Practitioner posts for the SAOLTA group to complement the existing posts held.
Professor Martin Cormican, National Clinical Lead for HCAI and AMR, Professor of Bacteriology at NUI Galway, and Consultant Microbiologist, reminded all present that the fundamentals of patient assessment for urinary tract infections is unchanged; it is necessary to treat the person's symptoms and that urine tested will only confirm diagnosis and appropriate antibiotic use. Inappropriate uses of antibiotic is still a huge burden on healthcare.  He advocates using local Antimicrobial Prescribing guidelines for reference when treating patients, and advocated that all complex cases should be discussed with the Microbiology team.  Galway University Hospitals (GUH) Antimicrobial Prescribing Guidelines are available in a mobile app (GAPP app) format for smartphone devices.  Routine urinalysis and urine for culture in the catheterised patient is not recommended.  Remember, treat the patient, not the dipstick!   Antibiotic therapy is not indicated routinely for patients with asymptomatic bacteriuria.
Part two of Professor Cormicans presentation covered 'The Superbug War'; how do we best treat our patients and protect them from infections such as CPE/ESBL/MRSA?  He advocated that all surgical procedure areas should be deep cleaned after each case.  He posed the question: should isolation cases be kept to the end of the list if the area is deep cleaned between each case?  Hand hygiene is key in the fight against infections. Multi-resistance organisms are our biggest challenge in the health service, bugs are adapting to infiltrate our antibiotic defense systems together with inappropriate use of antibiotics, are we destroying our own defense system – our microbiome!!!
Mr. Frank D'Arcy, Consultant Urologist and Urolithiasis expert gave an overview of renal calculi, treatment modalities, and preventative advice.  The key take-home message is 'stones are mainly caused by dehydration; numerous studies have reflected this through the years. Keep highlighting the importance of appropriate fluid intake to your patients'.
Mr. Hugh Flood, Retired Consultant Urologist from Limerick spoke about traumatic catheterisation and urethral trauma secondary to inflation of the balloon in the urethra.  He demonstrated a device developed to reduce urethral trauma caused by inflation of the balloon in the urethra instead of the bladder.  The device prevents inflation of the balloon when pressure resistance is encountered (ie if the balloon inflation is attempted while still in the urethra), if inflation is in the bladder there will be no resistance pressure and the balloon will inflate as normal.  This device will be trialed in hospitals around Ireland in January 2020. Congratulations and best wishes to all involved in this innovative device.
Mr. Shane Considine (SPR Urology, GUH) gave an excellent presentation on Radiation and Chemotherapy-induced cystitis, a complex condition to treat; he highlighted that not all patients will have the same benefit from current treatments to control & treat radiation and chemotherapy-induced cystitis. Treatments vary from pharmacological agents such as Elmiron, Hyperbaric chamber, Intervesical Sodium Hyaluronate solutions, and surgical interventions.
The afternoon consisted of four Educational workshops allowing opportunities to network and troubleshoots issues within practice:
Hands-on FURS-Flexible Ureteroscopy: This workshop was facilitated by Mr. Syed Jaffry, consultant urologist UHG, Marguerite Duggan, CNM II Galway Clinic, Killian Daly, Urology SHO, and Shane Considine, Urology SPr, UHG.  It allowed participants the opportunity to practice on a mannequin using ureteroscopy to promote their understanding of how ureteric and renal stones and managed.   A very interactive session that gave insight into the complex, delicate, highly technical skilled procedure.
Catheter care troubleshooting – This practical session jointly facilitated by Michelle O'Brien CNS Urology Galway Clinic, and Ger Healy Nurse CNS Urology Bons Secours Galway, offered participants the opportunity to discuss their experiences and concerns for patients in their care who are catheterised. Issues discussed varied from catheter types, balloon inflation, encrustation, duration of indwelling catheters to the use of catheter maintenance solutions.
Nephrostomy care – This workshop co-facilitated by Therese Kelly, RANP Urology UHG, and Maire O'Loughlin CNM II Urology Ward UHG, introduced and demonstrated the Nephrostomy Tube aftercare packs for community/home use which was launched by McEvoy medical. The monthly supply pack is now available via Pharmacy/PHN, and consists of nephrostomy tube dressings and bags. Care of the nephrostomy tube was discussed with hands-on stations to practice changing dressings.
Poster/Abstract tips & tricks – This workshop was co-facilitated by Robert McConkey, RANP Urology, UHG; Brendan Power, Specialist Coordinator CNME Galway; and Mary Power, Specialist Co-ordinator CNME Galway. Participants explored the benefits of developing abstracts and posters for presenting at conferences as well as an insight into many of the useful resources that are available to help participants develop succinct summaries of their work to increase their chances of acceptance at conferences.
Congratulations and well done to all who entered the SUNN poster competitions.  An exceptional level of expertise was presented in both the oral presentations and posters displayed, highlighting the amount of service development/innovation/leadership projects within Urology and Continence.
Congratulations to Aliki Michaelidou and Aine Carroll from the Galway Clinic on winning the Michael Corcoran Memorial educational bursary award 2019 for their presentation on Robotic Radical prostatectomy: the enhanced role of the scrub nurse and the impact on continence.  Congratulations to Geraldine Rooney from Galway University Hospital on winning the SUNN Poster (display only) competition on "Developing a patient leaflet: nephrostomy tube care".  We look forward to 2020 and hearing about their educational ventures attended with the educational bursaries.
In 2019, three dedicated Urology/Continence nurses retired from the SAOLTA group and community care.  Ann Sloyan operated a tight ship in the Urology theatre in Galway University hospital, and Francis McGinley and Michelle Quinn, led an innovative patient-centered continence service which was the first of its kind in Ireland, both were dedicated to enhancing the patient's continence journey in Donegal.  Francis and Michelle were also part of the SUNN committee from the foundation days.  All three are greatly missed and we wish them all every happiness and good fortune in their retirement.
Sincere thanks to the dedicated, committed SUNN committee: Syed Jaffry (Consultant Urologist), Robert McConkey (RANP Urology, GUH), Patricia Dever (Continence Advisor Mayo), Fidelma Mullarkey (Continence Advisor Mayo), Lorna Baldrick (Uro-Gynae CNS Letterkenny), Michelle O Brien (Urology CNS, Galway Clinic), Marguerite Duggan (Urology CNM11, Galway Clinic), Marie O Loughlin (Urology CNM11, GUH), Geraldine Healy (Urology CNS, Bons Secours), Margaret Tiernan (Continence Advisor Roscommon), Michelle Healy (Urology Nurse, Roscommon) and Therese Kelly (RANP Urology, GUH) without their handwork, commitment and drive this conference would not be possible.
Sincere thanks to our exhibitors, without their support our conference which supports education, innovation, and networking would not be possible. Sincere thanks to Sinead Bourke, Events co-ordinator Maldron hotel and her fantastic team for looking after all the delegates so well on the day. A special thanks to Marissa Butler, Carmel Brannigan, and Jackie Lillis, CNME Galway University Hospital, for your support and assistance in the days/weeks/months leading up to the conference.  We are also very thankful to the team from Yogamara for the seated yoga sessions during the conference which prepared us all mentally and physically for the day.  Finally, a very special thank you to our speakers, chairpersons, and workshop presenters, who gave us their time and expertise, it is greatly appreciated.
We look forward to welcoming you all back again to next year's conference which will be held once again in the Maldron Hotel, Sandy Road, Galway on October 9th 2020.
Go raibh míl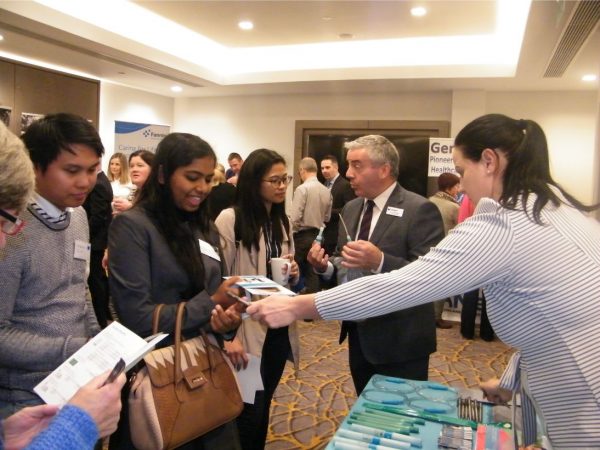 e maith agaibh go léir.