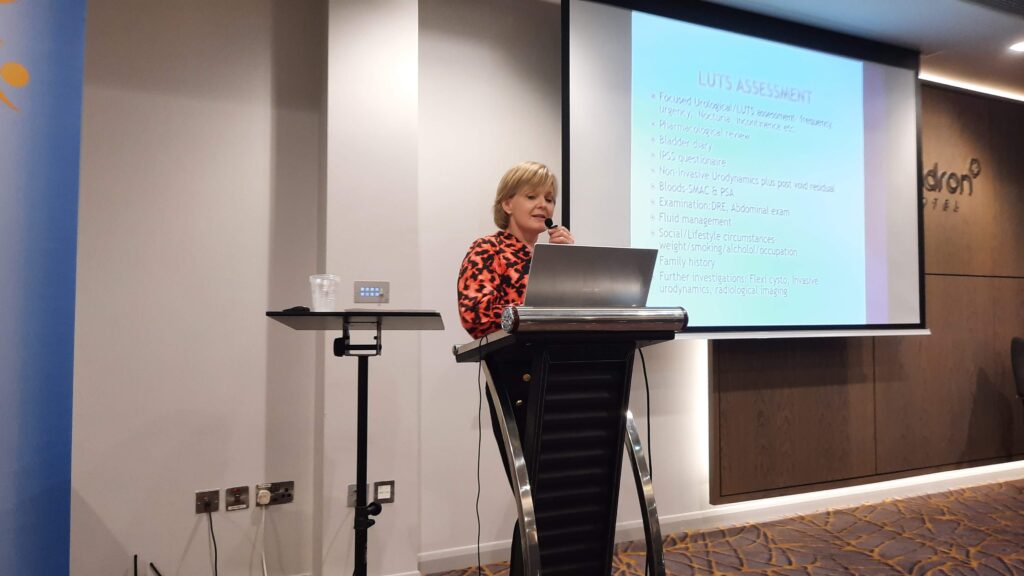 Report on the SUNN Conference 2023
The fourth annual Saolta Urology Nurses Network (SUNN) Educational Conference held in Galway on October 6th, 2023, brought together experts and professionals in the field of urology nursing and continence care for a day of insightful discussions and presentations.
The conference commenced with SUNN secretary Ms. Therese Kelly, ANP Urology from Saolta Group, welcoming a full house of attendees.  SUNN president Mr. Syed Jaffry, Consultant Urologist at UHG, captured the audience's attention with a passionate address focused on collaboration and networking in the field of urology.
Kate Donlon, ANP Frailty from Roscommon, emphasised that frailty should not be seen as an inevitable part of aging. She highlighted the importance of early identification to either avoid, delay, or reverse frailty. Kate also shed light on Comprehensive Geriatric Assessment (CGA), a multidisciplinary approach to understanding various aspects of a person's health, including physical, functional, psychological, and social performance. These insights set the tone for the day's discussions
Mr Jaffry then delved into the impact of frailty on urological conditions, focusing on uro-oncological surgery he underlined the significance of preoperative optimization for improved patient outcomes.
Ms. Catherine Dowling, Consultant Urologist at UHG, referencing the Model of care for urology in Ireland and the National Cancer Strategy provided valuable insights into the current and future of urology service planning and delivery. She emphasized the pivotal role of multidisciplinary teams in delivering these services, highlighting the holistic approach required in urology care.
Fidelma Mullarkey, Continence Advisor Mayo Primary Care Centre provided a detailed explanation on how to access continence pathways in the community. In addition, Fidelma emphasized the essential role of nursing education in promoting continence, which is a key factor in preventing urinary incontinence.
Dr. Sumsita Sarma, Consultant Obstetrician and Gynaecologist at UHG, addressed Genitourinary Syndrome in Menopause (GSM). Her presentation covered symptoms, assessments, and interventions to address this often distressing condition, providing practical knowledge for the attendees.
Ms Therese Kelly ANP Urology presented on the ANP pathway for men with Lower Urinary Tract Symptoms (LUTS) and outlined the dramatic reduction in waiting times and improved access to evidence based care for patients accessing the service.  She also provided an overview of erectile dysfunction in men, highlighting the importance of a comprehensive health history and use of validated assessment tools in managing the condition.
Attendees actively participated in interactive and engaging panel discussions, fostering meaningful interactions between the panelists and the audience.
This year's Michael Corcoran Educational Bursary was awarded to Ms Marie O'Loughlin for her presentation on the development of an eform to improve catheter care.  And, Geraldine Rooney was the winner of the poster competition for her entry on enablement after consultation with an ANP in urology.
The morning session concluded with heartfelt appreciation for Lorna Broderick and Margaret Tiernan, who had made invaluable contributions to SUNN over the years. Their dedication and commitment were acknowledged as attendees wished them all the best in their future endeavours.
In the afternoon, participants engaged in workshops covering continence care, pelvic floor rehabilitation, nephrostomy care, and catheter management. These hands-on sessions allowed attendees to gain practical insights and knowledge applicable to their daily practice.
Throughout the event, the atmosphere was described as dynamic and energetic, reflecting the enthusiasm of the participants and their commitment to advancing the field of urology nursing and continence care.
In summary, the SUNN Educational Conference in Galway provided a platform for professionals to come together from primary, secondary and community care settings, learn from experts, and exchange knowledge and best practices in urology and continence nursing. It emphasized the importance of early identification, collaboration, and the multidisciplinary approach to delivering quality care in the field.