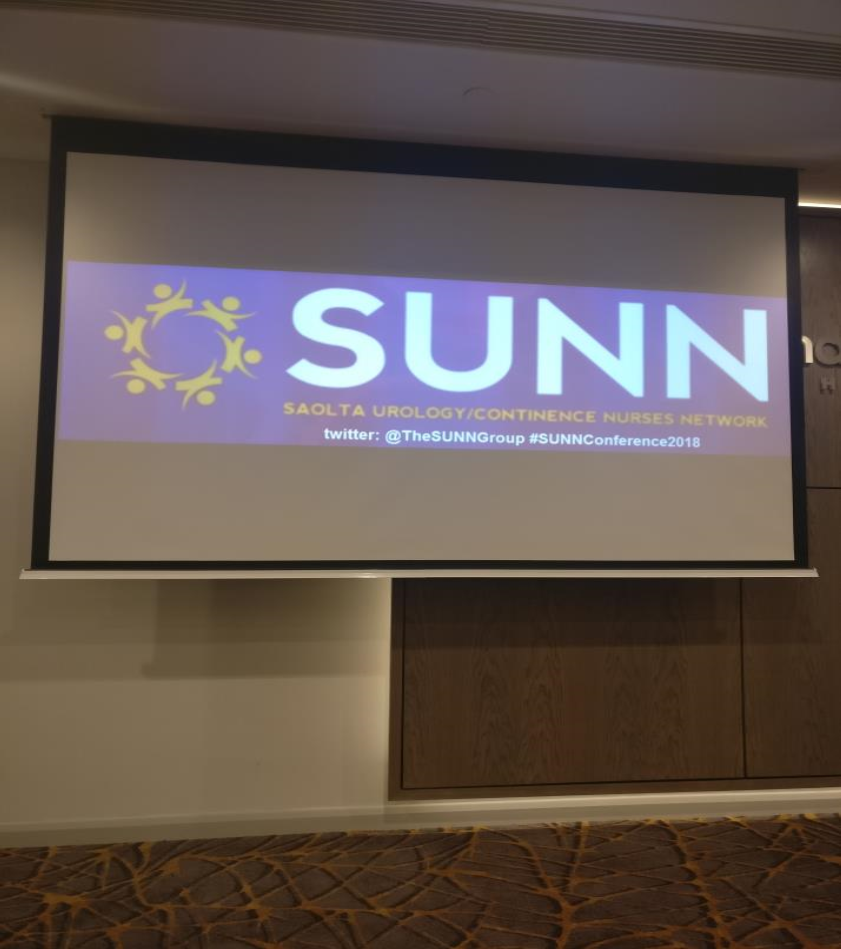 Report on the 2018 SUNN Annual Education Conference
SUNN Saolta Urology/Continence Nurses Network
2nd Educational Conference
19th October 2018
Theme: Incontinence through the Ages
Conference Report
The second educational conference of SUNN was held on the 19th October 2108 in the Maldron Hotel, Sandy Road, Galway. The opening address was made by Mr Syed Jaffry Consultant Urologist and President of SUNN, Mr Eamonn Rogers Consultant Urologist, and Therese Kelly, Advanced Nurse Practitioner and Secretary of SUNN.  Mr Jaffry gave a brief overview of how the SUNN group came about.  The morning session was chaired by Mr Eamonn Rogers and Mr Nadeem Nusrat Consultant Urologist.
The opening topic 'The Pathophysiology of Urinary Incontinence' was given by Mr Asad Ullah Aslam Consultant Urologist. Mr Asad Ullah Aslam gave a very detailed account of the very complex nature of the bladder and urinary incontinence.
Liz Boyce Urology Clinical Nurse Specialist in Crumlin hospital gave a very enjoyable talk on paediatric urinary incontinence. Stressing the importance of the role and education of parents, early local assessments and appropriate referrals.
Panel discussions were had between each of the sessions where some debate and differing opinions were shared.  In an adjoining room, companies exhibited all the most up to date equipment and technology, relating to catheters, clean intermittent self-catheters, continence equipment and accessories.
The mid-morning session was chaired by Mr David Bouchier-Hayes, Consultant Urologist and Ms Catherine Dowling, Consultant Urologist.
Dr. Brona Mooney detailed her research on 'Younger Men's Experience of Urinary Incontinence post Prostate Cancer treatment' giving insight into the difficulties faced by men post radiotherapy and surgical treatments for prostate cancer.
Physiotherapist Aoife Ni Eochaidh discussed pelvic floor muscle dysfunction also giving useful tips and updates on the latest technology available.
The afternoon panel discussion was chaired by Ms Susmita Sarma, Consultant Urogynaecologist and Mr Syed Jaffry, Consultant Urologist.  The panel discussion allowed for delegates to ask questions, share experiences and suggestions in the management of urinary incontinence and indwelling catheters.
The first lecture of the afternoon session was delivered by Mr Peter Kidd, Senior Pharmacist, who spoke about the impact of pharmacology on continence.  Peter gave a very informative overview of the different types of medications used in the treatment of urinary incontinence, as well as highlighting their contraindications.
Following this, Eabhann O'Connor, SpR Urology gave an interesting update on the innovations in urinary incontinence and how these urological advances continue to grow rapidly.  Keeping up to date with these new healthcare innovations is vital.
Ms Patricia Dever and Margaret Tiernan, Continence advisors for Co. Mayo and Roscommon emphasised the importance of Continence promotion clinics and how these clinics have had a positive impact on quality of life for patients with urinary incontinence. Community intervention is paramount in educating and assisting patients to manage their urinary incontinence.
Congratulations to Sean Diver, Candidate ANP Urology, Letterkenny General Hospital who won this year's Michael Corcoran Educational Bursary Award for the best poster presentation on 'The long-term quality of life and information needs of prostate cancer survivors'.
All poster and presentation entries this year were outstanding and revealed the tremendous work being carried out in different healthcare settings.
This year's second educational conference closing address was given by Mr Syed Jaffry and Ms Therese Kelly, who thanked the great turnout for attending this year's very well structured SUNN educational conference.
Keep an eye on the 'News and Events' section for details of next year's conference which is sure to be another highlight in the urology calendar.