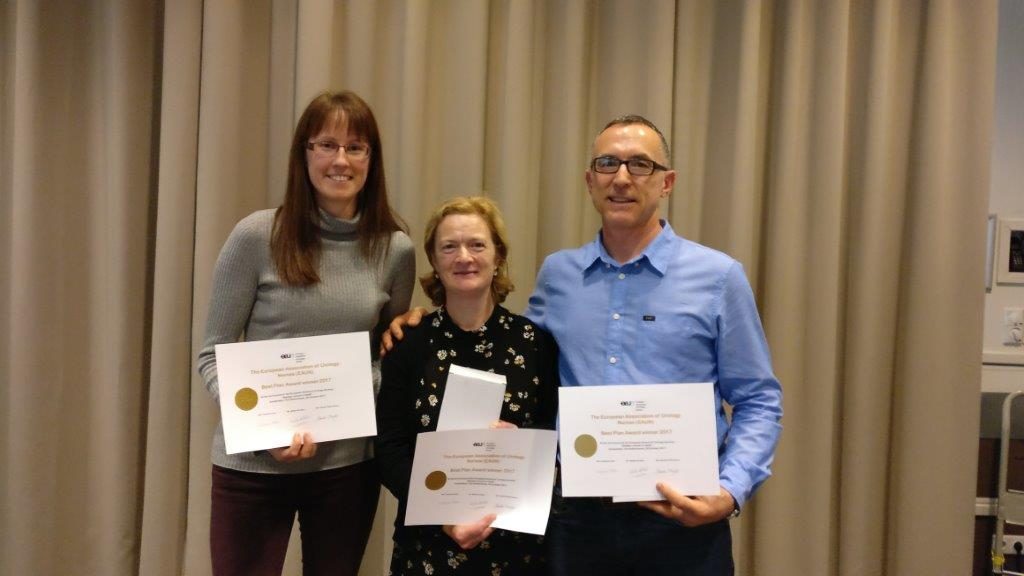 ESUN In depth Bladder Cancer Course Amsterdam 2017
Report on the two day 'In depth bladder cancer' programme hosted by the European School of Urology Nurses (ESUN), the education and training arm of the European Association of  Urology Nurses (EAUN) held in Amsterdam on Friday and Saturday 27th & 28th October 2017.
Authors : Robert McConkey cANP Urology GUH, Mary Downey CNS Urology CUH,  Anne Daniels CNMII Urology WUH
Three Irish urology nurses from Galway, Cork and Waterford, were delighted to be amongst the 50 urology nurses from 18  countries, selected from over 80 applicants to attend this program in Amsterdam.   Nine modules were delivered by both medical and nursing experts in the field of urology and uro-oncology over the two days. There were lots of opportunities to interact with the panel and presenters who were happy to share their expertise.
Fridays topics included the principles of treatment of both muscle (MIBC) and non muscle  invasive bladder cancer (NMIBC) and how these treatments impact on patients, a very  important consideration for nurses relating to the patients quality of life.  After a short coffee  break and a networking opportunity, the programme continued with presentations primarily related to MIBC, neo adjuvant chemotherapy, chemoradiotherapy, immunotherapy and new  treatment options.  Little has changed in the treatment of NMIBC for a long time, however new  research will investigate the role of immunotherapy (prembrolizumab) with BCG, or alone in  the setting of BCG failure which may add another option for patients if trials are successful.
The patient's perspective and unmet needs in bladder cancer (again largely focused on MIBC) revealed a fairly poor picture with only 8 papers meeting inclusion in a systematic review  yielding low levels of evidence due to the paucity of studies in this field.  The limited evidence  highlighted numerous domains of unmet need in areas such as urinary function, sexual function, and bowel problems as well as emotional and psychological needs throughout the patient journey.  Further research is needed employing standardised validated instruments to  better understand patient need in order to deliver targeted evidence based interventions. A  conceptual framework was explored for intervention development to address these needs.
There was a real emphasis placed on the value of multidisciplinary working and the important  role that nurses play within the team. Nurses in the community, on wards, and in clinics are charged with very intimate aspects of bladder cancer care including pre and post operative care, cancer surveillance, treatment administration and survivorship.
Day two addressed issues related to adherence to treatment, where it was noted that up to  50% of patients suffering from chronic illness do not follow treatment recommendations.   Various strategies which focused on including patients in the decision making process and ensuring that the patient fully understands the treatment, including side effects, appears to significantly improve concordance resulting in improved quality of life.  Additionally, clinical health promotion in relation to bladder cancer highlighted the detrimental  effects of smoking and alcohol on bladder cancer recurrence and in postoperative complications.  Simple strategies to help patients to quit (start by asking patients) are surprisingly effective, as well as targeted intensive interventions by specially trained counselors.
Prehabilitation and rehabilitation pathways for cystectomy patients shows real benefit and positive outcomes for patients related to improved physical capacity prior to surgery and improved outcomes post op.
The role of the nurse from 'haematuria to cancer' explored topics including the chronic nature
of NMIBC, the cost of bladder cancer treatment and follow up (the most expensive cancer to treat), the role of the nurse cystoscopist and nurse specialists play, and the value patients place on the continuity of care afforded.
Finally, the day finished off with a presentation of an award for a group work project which involved developing a plan for delivering a urology education programme.  Our group consisting of 2 nurses from Finland, 2 nurses from the UK, 1 nurse from China, one nurse from UAE and 3 nurses from Ireland (us!) were delighted when it was announced that we had won the 'Best Plan Award 2017' for developing and presenting an educational programme plan titled 'Safe administration of intravesical therapies; BCG & Mitomycin C, for the treatment of non muscle invasive bladder cancer'.
The ESUN runs a different course each year.  Applications are usually open some time in  March or April. Information can be found on the EAUN website. We would encourage anyone interested in the particular program to submit an application. Flights and accommodation are covered by the ESUN and the cost of the course itself may be eligible for reimbursement from your local nursing education unit.